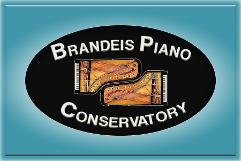 Prepare Your Child for Success!
Introduction
The Brandeis Piano Conservatory of Richardson,Texas has provided
exceptional piano instruction to our students since its inception in 2000. The Conservatory teaches children and adults from beginning to intermediate and advanced levels.
We can quickly help you meet your musical goals -- whether they are purely for personal pleasure or to actively participate in festivals and contests.
About Us
Annie Lin and Steven Hall are active pianists and teachers, with advanced degrees in piano performance from the finest music schools in the country.

Our vast experience as successful teachers and performers will make your child's musical journey one that is uniquely rewarding, enriching, and enjoyable.
Why Piano Lessons?
Recently, multitude of scientific studies have shown that people who take music lessons (specifically piano lessons) have higher test scores and cognitive ability than those who do not study music. We have put together a list of some of these references for your convenience . . .
Testimonials
Our 8- and 14-year-old daughters had been playing the piano for four and eight years respectively prior to becoming students at the Brandeis Piano Conservatory 8 months ago. Dr. Lin and Dr. Hall perfectly blend technique with music theory, coupled with a genuine interest and passion for each student. They have instilled in our girls an appreciation for music that was absent prior to their association with the Conservatory, which has transformed them from young girls who merely knew what keys to hit into true students of playing the piano. -- Michael C.

As a student of the Conservatory for 10 years, I have had the privilege of working with both Dr. Lin and Dr. Hall; both teachers are fantastic and very knowledgeable. When I started taking lessons with Dr. Lin I had no prior experience on the piano, but had taken violin lessons for a few years. After the foundations were in place, I developed a varied repertoire, ranging from works of Bach to Chopin to Villa-Lobos. Along with piano lessons, the instruction in music theory and history helped me understand the music on a deeper level. The studio performance classes, festivals and competitions have been an integral part of my performance experience with piano. As I begin my college studies at the Cleveland Institute of Music as a violin performance major in the fall of 2013, everything I have learned while a student at the Conservatory has seamlessly integrated with my violin studies, thereby improving my stage-presence and the overall musicality of my performances. -- Christine W.
Dr. Lin and Dr. Hall are exceptional, passionate and talented piano teachers, with a positive and professional attitude. They both have encouraged and motivated our son to practice, and excel to the best of his ability. They have a wonderful positive approach -- which allows the students to have both the confidence and the desire needed to achieve their musical goals. We love the many countless opportunities which they organize their repertoire to perform at various festivals, competitions and recitals during the year. Brandeis Piano Conservatory is one of Dallas's best kept secrets. -- Lisa C.
My son has been taking piano lessons from Dr. Hall for over 3 years, and it was the best move we ever made! Dr. Hall, being a concert pianist himself, know the music industry by heart and therefore is able to guide my son to help him reach his fullest potential. He does not only teach how to play the piano, he takes his teaching a few steps beyond that. He explains the music itself, its form, any applicable history and how this relates to the techniques that are required, combined with music theory. Dr. Hall truly allows his students to become one with the music they learn. -- Andrea B.
Brandeis Piano Conservatory is a highly recommended music school in Dallas. Both Dr. Hall and Dr. Lin, with their renowned music training, are gifted educators who are able to make piano learning an enjoyable, yet serious pursuit for your child. My daughter began lessons at the Conservatory at the age of 4 and now, 5 years later, I can confidently say she has been excited, motivated, and stretched beyond her years. After laying the basic foundation for piano and music theory, Dr. Lin began building my daughter's musical repertoire. Dr. Lin works hard to help my child understand and polish a given piece of music, hold extra performance classes to help my daughter participate in various festivals and competitions throughout the year. My daughter has been successful in many of these competitions -- the latest notable achievement is being the first prize winner of the Dallas Symphonic Festival Elementary I Concerto Division. I cannot say enough about Dr. Lin's tutelage, for under it, my daughter's love for, understanding of, and performance on the piano has grown immensely. -- Stephanie P.
Our daughter Michelle has taken piano lessons at the Brandeis Piano Conservatory for over 5 years. She began with a 6-year-old's concept of what learning to play would be like, and there have been ups and downs along the way (as most parents can attest to!) Through it all, Dr. Hall has shown incredible patience, caring and innovation. All students learn in different ways, and Dr. Hall takes this into account. Consequently, he brings out the best in his students, keeping them challenged and interested. Michelle has performed in competitions as well as the end of the year recitals. It is wonderful to see the talent, skill, and most importantly the confidence their students develop during their time with Dr. Hall and Dr. Lin. We highly recommend the Conservatory. -- Lisa and Bob M.
2013 © Brandeis Piano Conservatory